Hi folks! It is the time of the year for piCture pOlish BLOG FEST! piCture pOlish's Blog Fest is an event where by many nail art bloggers/Instagramers come together to create manicures using different piCture pOlishes. I am really honoured to be part of this fest together with nail art bloggers from all around the world! This year, piCture pOlish has collaborated with Nail Vinyls for this event. There are 2 parts to this event. Are you ready for piCture pOlish Blog Fest 2014? LET'S ROCK!
PART 1 — Swatch Time!
Introducing Starry Night; Big & bright heart of Texas!
Just like the name suggests, Starry Night depicts a night sky full of stars. It contains loads of small and fine glitters of irregular shapes and sizes. Magnificent indeed. The glitter coverage on the brush is 10/10! No twisting and turning is required to dig the glitters.
The application of the polish is great. As expected from PP, their brush is of high quality which makes the application a breeze. On the other hand, Starry Night has a rather jelly base which was unexpected. At the first look of the bottle, I thought that it would have an opaque base. I would say two coats of Starry Night will be required for full opaque coverage. However, I have used three coats for a more balanced look. Nonetheless, each coat is very thin, so no worries about having thick manicures.
The glitters are very define and each layer/coat contributes to the depth of the  manicure; masking the previous layer and bringing out a new layer of stars. Starry Night is not exactly a polish that we will categorize under "Glitter Polish". I would say that it should be more of a "Shimmer Polish" instead. Little effort was needed to remove it and I am really amazed because of the fact that I have painted three coats of it excluding topcoat. If you are someone who likes dark polishes and a little stellar effect, Starry Night should be in your cart by now!
PART 2 — Two Shades + Nail Vinyls!
Part 2 of PP's blog fest 2014 is a collaboration between piCture pOlish and  NailVinyls. I was given 2 shades of piCture pOlishes and a pack of chevron nail vinyls to create some nail art! ❤ The 2 polishes are Dream and Marine.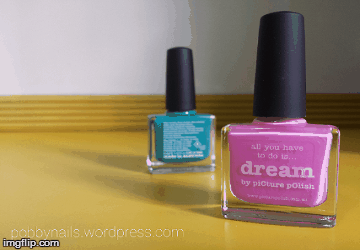 Dream is a barbie pink. A creme pink that reminds me of Legally Blonde! It is a little watery but fret not, its opacity is superb! I would go for 2 coats for a balanced opacity. Application is great (oh god, I have no idea how many times I will repeat this in this post… too good). A HA! It looks very clean and nice on its own. Perfect polish to make you feel like a doll.
Marine is a… marine polish or should I say a deep turquoise polish. The application of Marine is way better than Dream, probably due to its darker shade. One coat will suffice for full coverage! It gives me a neat look, and it will definitely be awesome for a vintage fad.
Coming up with a manicure using these 2 shades and the common chevron nail vinyls is definitely a challenge for me. piCture pOlish allowed us to use black and white polishes to spice up our manicure. However, I feel that PP's blog fest should solely feature PP, if not it would have defeat the purpose of this blog fest!
So this was the manicure that I did! I gave the chevron nail vinyls a little turn to create this maze manicure! What do you think? 🙂
It is nothing fanciful but I really like this look! It is like a total random mash up of chevrons. Below is a simple pictorial that I have prepared. The pictorial is rather straightforward, but I would still like to highlight a few important points when dealing with nail vinyls.
You will need: Nail polishes, Fast Drying Top Coat (optional) Nail vinyls, A pair of tweezers, Clean up tools
Step 1: Get prepared by painting a base colour. Make sure that your base manicure is 100% DRY before moving on to step 2. I will highly recommend you to use a fast drying top coat to shorten the waiting time. I would say 2 hrs is the safe zone if you choose not use a fast drying top coat.
Step 2: Paste your chevron nail vinyls over your base manicure. Things to take note: The nail vinyls have to be stuck on the nail securely without any space in between your nail and the sticky area of the nail vinyls. Especially areas at the corner of your nail and the cuticle area. If it is not stuck on properly, Step 4 will be a disaster.
Step 3: Paint the next layer of nail polish over as shown in the picture. After that, use a pair of tweezers to slowly remove the nail vinyls while the polish is still wet! When the polish starts to dry, you will get to see the pizza-cheese effect during the removal of the nail vinyls. Most importantly, follow your way through the chevron nail vinyls in a zig-zag motion (not a straight line motion), if you get what I mean.
Step 4: You will get something like this if you have done good job! #IHaveDoneAGoodJob LOL. Meanwhile, grab your clean up brush or q-tip to do some clean ups. Last but not least, finish your manicure with your favourite top coat!
Not sure if you have realised, I have used Marine as the base colour on my thumb!! REALISATION. However, since Marine is a darker shade compared to Dream, I will suggest using the darker shade as the 2nd layer because we cannot afford the time to paint a 2nd layer of the 2nd colour to fully cover the base colour. This will affect the removal of the nail vinyls.
piCture pOlish has always been one of my favourite polish brands. With the collaboration of various parties on selected polishes, they have created many unique polishes that I am so in love with. Every polish has a tinge of elegance and every collection surprises you.
You can find piCture pOlishes over at their main online store and a number of international stockists. Don't forget to check out their Everyday Deal! Keep yourself updated by following their social media handles: Instagram, Facebook.
Also, check out many pretty manicures over at @teismom (creator of Nail Vinyls) and get updated via their Facebook page! I have personally bought chevron nail vinyls from @teismom quite some time ago and it was great! She carries more than just chevron nail vinyls now (eg. right-angle and straight cut nail vinyls).
Both piCture pOlish and NailVinyls.com have very fast and efficient shipping process. It takes only about a week for their products to arrive here in Singapore despite the fact that they are from Australia and US respectively.
This is a longggggg post indeed! I enjoyed every single moment while typing this post. This reminds me of why I started blogging about my hobby; to share with the world what I know, and my utmost options about nail art. 🙂
That's all for today folks! See ya!
Meanwhile… HAPPY POLISHING!
Love,
Priscilla